Accommodations
Lake Shore Village Resort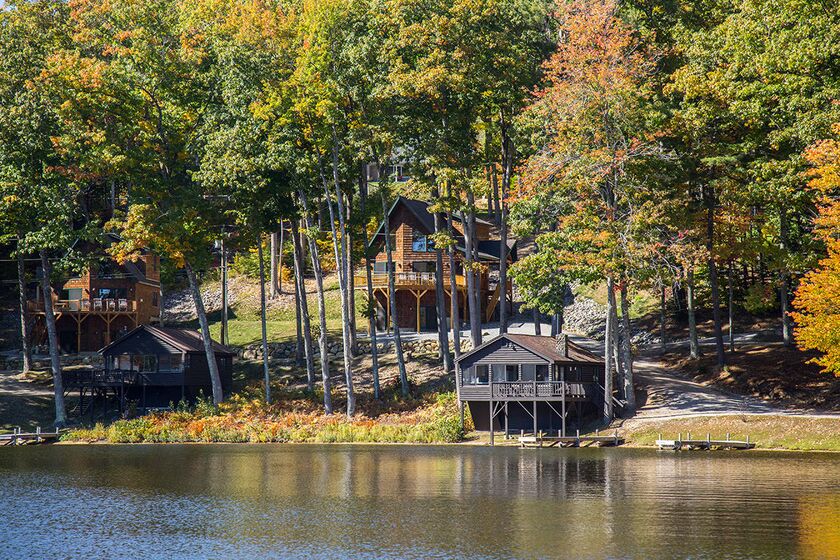 133 Cottage Rd, Weare, NH 03281, USA

Lake Shore Village Resort Cabins
LSVR boasts comfortable on site accommodations for up to 120 guests. Don't let "Cabin" fool you! The properties consist of 2, 3 & 4 bedroom log sided homes, each complete with private dock, cable TV, full kitchen, full bathrooms, expansive lake water views.
Cabins cost $90/night, per person. 2 night minimum. Check in 2 pm Friday, Check out 12 pm Sunday
In addition to our reception, all guests are invited to our Welcome Dinner on Friday night, and our Pancake Farewell breakfast on Sunday morning.

The bride and groom have helped with cabin assignments, which can be found in the right panel of the invitation booklet. All cabins can be viewed online at www.lakeshorevillageresort.com, and all are no more than a short jaunt to the beach, welcome dinner site and reception site. We hope you'll choose to stay at the venue with us for the weekend!
email weareweddingcabins@gmail.com by March 1st to confirm booking, or to decline your reserved cabin placement.
Residence Inn - Concord, NH
For guests who prefer to stay in traditional hotel accommodations, a room block has been secured at the Residence Inn in nearby Concord, NH. Depending on the number of guests who elect to stay at the Residence Inn, we may arrange for a shuttle service to and from the venue on Saturday.
Cost $169/night - All suite, king bed, pull-out sofa bed, kitchenette, full hot breakfast buffet included
Call 603-226-0012 by 5/31/19 to reserve.
Travel and Transportation
Manchester-Boston Regional Airport
1 Airport Rd, Manchester, NH 03103, USA

The closest airport to our venue, Manchester-Boston Regional Airport is a 46 minute drive (29.2 miles) from Lake Shore Village Resort.
Boston Logan International Airport
1 Harborside Dr, Boston, MA 02128, USA

Logan airport is a second close option for air travel, at 1 hour and 30 minutes (85 miles) from LSVR.